World of Kawasaki 2015 - Supercharged!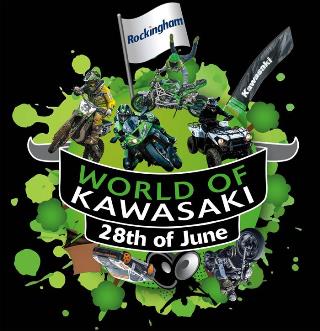 This year we are taking World of Kawasaki to Rockingham Speedway for an event that will be bigger and better than ever.
The annual UK festival of all things Kawasaki will take place on Sunday 28 June at a new venue, the Rockingham Circuit near Corby in Northamptonshire.
World of Kawasaki will offer a chance for Kawasaki fans, their families plus those new to the brand to enjoy a wide variety of experiences and attractions with the emphasis on most being provided totally free of charge.

On offer are track sessions on the International Circuit -  for enthusiasts to ride their own Kawasaki on the famous circuit. We are also offering demo ride outs on a Kawasaki fleet, being led through local routes in Rockinghams beautiful surroundings -  featuring a variety of machines including the new Versys range, the ER-6f and ER-6n plus the Z and ZZR families and Vulcan cruiser bikes.

The track also plays host to a very special Ninja H2 owner parade lap which is being led by none other than winning rider James Ellison.
 
Off-road fans will be able to try a KXF motocross racer while Kawasaki four wheelers in terms of ATV quad bikes and MULE utility vehicles, can also be experienced.

In terms of live entertainment, the programme will be just as full with the Lee Bowers stunt show together with a MAXXIS drift car display. We will also host a round of the British Stunt Championships which will involve Freestyle and Challenge events plus a Stoppie competition. There will also be live music and – for those that camp on the Saturday night before the event – a hog roast, live band and evening stunt display.
And to ensure everyone can get involved and enjoy the day we will have some family entertainment on site for children and adults!
 
Mark Spiller of Kawasaki commented that this year's event was being planned even as last year's was coming to a close.
"It's great to see some familiar faces each year and just as exciting to meet and greet those new to Kawasaki. We have such an amazing heritage and perhaps our best road and off-road ranges for many years. It's our privilege to create World of Kawasaki each year and the chance to add fresh energy with the move to Rockingham adds further fresh touch to an event that welcomes one and all to our world".
To register your attendance, book your track session or get your spot for Kawasaki By night click here
We look forward to seeing you there!