Kawasaki leads from front in British Championship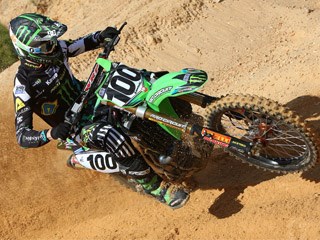 With its largest Team Green squad in recent years – and with the support of world star Tommy Searle – Kawasaki is forging ahead in the UK MX1 Championship.

The Team CLS Monster Energy Pro Circuit Kawasaki rider has moved into MX1 for 2013 and his two visits to the UK so far have each ended in race wins and overall event dominance. With four from a possible five victories on his KX450F he sees visits to the UK as a way to refine his approach to the biggest and most powerful KX after several seasons on the 250cc machine.

"I'm lucky in a way", says Searle. "Not only do I come back to the familiar surroundings of the UK, but the level of competition here is world class so I have to work just as hard for wins. It was proper deep mud at the first round and then more hard packed at Lyng the other day so I am getting a feel for the bike in all sorts of conditions".

Naturally there are those that would like to see Searle splitting his time between his commitments to Team CLS Monster Energy Pro Circuit Kawasaki and the UK scene. And with five rounds remaining and a commanding points lead, it's tempting to speculate that the talented 24 year of rider could win the British MX1 Championship while also fighting for top honours globally.

"It's a nice thought", concedes Searle. "I've certainly day dreamed about it but nothing is set in stone regarding the UK side of things. My core commitment and focus is on the world stage. If I can get across to the UK of course I will try 100% but I have to be realistic. I don't want to jeopardise any chance of world success in terms of the time and resources I have available to me."

Kawasaki knows it has a great ambassador in Tommy and European Race Planning Manager, Steve Guttridge, is delighted that he is entertaining the home crowd.
"It's great to have seen Tommy dominate the first rounds of the British races and already to be leading the Championship by some margin on his KX450F.
We know Tommy's potential to also win MXGP's this year for Kawasaki, but the team, Tommy and Kawasaki will have to work that extra bit harder and together if we are also going to realise that potential on the world stage.
Having got these extra races under his belt, we all now believe Tommy and his team are ready to do just that as he prepares for the fourth round in Italy this weekend"