Race and Championship wins for Kawasaki riders in Ireland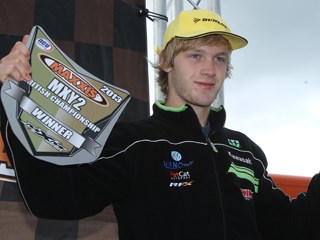 Always a well-attended venue, Desertmartin in Northern Ireland played host to round six of the Maxxis British Championship. For Kawasaki riders there was much to celebrate with not just race winning performances but also a Championship success at the event.
MJW Kawasaki rider, Rob Davidson from Sheffield left Ireland in a buoyant mood having achieved Championship success in just his first season on the awesome KX250F. The sixteen year old follows in illustrious footsteps and repeats the achievement of the last Kawasaki rider to lift the trophy, Connor Walkley in 2010.
Elsewhere in the paddock there was more to celebrate from the lime green team with the ever popular Bryan MacKenzie taking a maiden overall British Championship win in the MX2 class on his Pendrich Kawasaki KX250F.
New to Kawasaki for 2013, Pendrich have shown that with the right rider, machinery and team approach it is possible to enter one of the most hotly contested championships in Europe and become podium contenders. Now fifth in the title chase, MacKenzie has a realistic chance to take third spot if his current run of form continues, as he explained.
"What a fantastic weekend! Despite the horrendous weather, I couldn't stop smiling all day as everything just clicked. The Kawasaki worked perfectly, and to take pole position and the overall win is more than I could have asked for – let's see what the next couple of meetings bring!
For Davidson, the title win had great significance;
"For my first season on the KX250F I couldn't have expected to achieve what I have. To claim the MXY2 title is a dream come true, and now I can't wait to move into the MX2 class in 2014, hopefully staying with the MJW Kawasaki team on the bike I have grown to love over this season."
As Ross Burridge, Racing Coordinator for Kawasaki in the UK explains, the twin celebrations are of great significance.
"I am over the moon for both of these lads. I have worked with Bryan for a few years now, and to see him finally achieve what he thoroughly deserves is awesome and lets all hope he can continue that excellent run of form for the rest of the season.
Also, huge congratulations to Rob and the MJW Kawasaki team. For another team in its maiden year - and with it being Rob's first year on the bike - to take a title is a great achievement."