Kawasaki completes 2014 MX range with impressive new KX85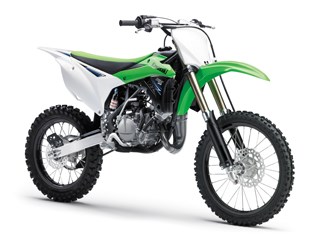 Following the recent announcement of the 2014 model year KX250F and KX450F machines, Kawasaki has now unveiled the other models in its motocross range for the coming season.

With the continued Championship success of Ryan Villopoto in the AMA Supercross series – and impressive wins and podium placings on the world stage in MX1 and MX2 – interest in the lime green racers is intense.

Featuring factory developed launch control as a first-in-class feature, the new KX250F is set to take the MX2 class in world and domestic racing to a new level in the coming year. Combining a new look that mirrors the clean lines of the incoming KX450F, the MX2 class machine additionally benefits from engineering and technical upgrades including revised settings for the separate function front fork and rear Uni-Trak suspension.

For the range-leading KX450F, launch control is also a key feature and one that has created many hole-shots in the past season for Villipoto and others. Also sharing the "plug-and-play" three option tuning plug-ins for soft, medium and hard pack tracks as the KX250F, the 450cc machine equally offers the customer the a chance to fine tune the ECU and examine hours of riding information with the optional Fi calibration kit.

For junior riders - along with the updated graphic look of the starter KX65 – the big news in 2014 is a radically updated KX85 with some major performance upgrades for the coming season.

Available in both small wheel and big wheel configurations, the ideal two-stroke youth machine boasts an incredible 20% increase in peak horsepower, a cutting-edge styling package and useful adjustable ergonomic rider package with in-built adjustability options as standard for 2014.

Changes to the water-cooled KX85 engine decrease friction and release both more power and greater torque making improved lap times, greater hole-shot ability and, of course, the potential for more race wins, key among many innovative features. And with upgrades to the specification and adjustability of the suspension package, plus a contemporary styling package, the new KX85 has the advanced looks and performance that Team Green fans will love.

Speaking about the new range, Race Planning Manager for Kawasaki Motors Europe, Steve Guttridge, highlighted both the heritage of the motocross range and the structured approach that creates a Kawasaki KX "Ladder of Opportunity".

"This year marks 40 years since the first KX machines and what better way to celebrate that than with one of our strongest ever offerings. Our adult range is rightly regarded as providing a benchmark in the world of professional and enthusiast motocross. Now, with the addition of the fundamentally upgraded KX 85, plus the stalwart "first-step" KX65, riders can choose to start and progress throughout their riding career on lime green machines benefitting from Kawasaki's outstanding racing technology, valuable performance advantage and Team Green race-winning heritage"