Kawasaki Racing Team has new title sponsor: Monster Energy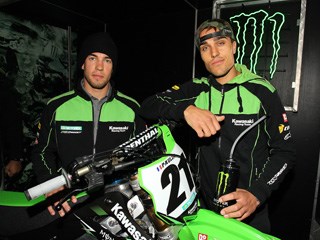 The Kawasaki Racing Team is delighted to welcome Monster Energy as official partner and title sponsor of the team for the FIM MXGP Motocross World Championship.
The Kawasaki Racing Team is one of the most high-profile squads in the Motocross World Championships, scoring a regular string of GP victories and podium finishes throughout the last two seasons with Gautier Paulin. He will be joined by fellow Frenchman Steven Frossard, also a proven GP winner, for next season.
The success story of the Kawasaki Racing Team has not only attracted Steven, a GP winner in MX2 aboard Kawasaki earlier in his career, back into the green family, it has also coincided with Monster Energy supporting the team as title partner. A long-time partner of Kawasaki in the United States, Monster will now share this image with the green bikes worldwide, and will continue to cooperate with Gautier and Steven.
Thierry Chizat Suzzoni: "Since I've been involved with the team, we've all worked hard to bring back KRT to the highest level. Kawasaki has a long-term involvement with us, and during the past season we have been able to offer several GP victories to the company. We have scored GP wins with Gautier Paulin, now our goal is to fight for the World title and I'm sure that we have a good chance to enjoy many podiums with both Gautier and Steven Frossard.
Now I'm pleased to introduce Monster Energy to our team, who have partnered with us in a multi-year agreement. I want to thank them for their support; I'm sure we have the right package to do even better in the coming seasons."
Mitch Covington, Monster Energy: "We're really excited to be part of the Kawasaki Racing Team next season, involved with Thierry and the factory effort from Kawasaki. Steven and Gautier are strong riders, they each have good chances in the championship, and we have a very strong team. We are really proud of Gautier's results this year; he is a young and strong rider who can be there for many years and he fits the Monster Energy image. We also keep Steven in the family; I'm sure he will be very good for the brand and for the team. We have a strong relationship with Kawasaki in both USA and in Europe, and now have a worldwide base."
Steve Guttridge, Kawasaki Motors Europe: "It's great news that Monster Energy have officially come on board with our factory MX1 effort for the coming seasons! Our Kawasaki Racing Team has indeed formed a very strong team structure and one in which our riders can reach their full potential on our factory KX450F next season. We very much hope and expect to grow the relationship with Monster Energy now and enjoy together the benefits of our obvious brand synergies, as we have already for many years in the US with KRT and with great results"