LPE Kawasaki takes Birmingham Arenacross by storm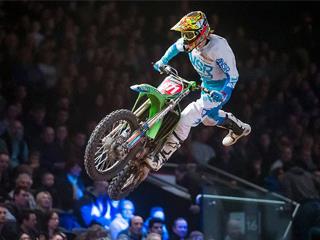 With high winds and storm force rains lashing the UK, the LPE Kawasaki team took their Arenacross assault to the LG indoor Arena in Birmingham on the last weekend in January and finished the night dominant victors.
The third round of the premier UK's indoor series witnessed Steve James' team arrive at the Midlands venue with the red series leader plate in their tool chest following a masterful showing recently in Belfast.
With Frenchman Fabien Iziord on top form – and team mate Loic Rombaut eager to challenge for honours – the heat races were frenzied with Iziord comfortably leading the following pack and Rombaut snapping at his heels.
As a "warm up" to the main event, both LPE riders were pitted against each other in a cut and thrust two man head-to-head. Again Fabien took the flag first and, in so doing added four more precious points to an already impressive series tally.
This was just the impetus the Gallic sensation needed to push to even greater heights and a stylish romp to victory in the deciding race of the night, the main event. With a 14 point lead heading towards the Liverpool round, the stage is set for yet more indoor fireworks in the North West whatever the winter weather might deliver outside.
Team Owner Steve James said after the event:" I am delighted to be working with two such professional riders as Fabien and Loic. They are a pleasure to work with and are fantastic to watch on track. It is great to be leading this Championship moving towards the halfway stage, and look forward to more of the same hard racing and strong results in Liverpool".
For Kawasaki Motors UK, Racing Coordinator, Ross Burridge, commented. "I am really happy for Steve. It's no secret that he had a tough year in 2013. To see his riders on top of the podium is fantastic. I really hope it continues for the rest of the Arenacross rounds and into the outdoor season".