Apico LPE Kawasaki rider takes Arenacross Crown… one round early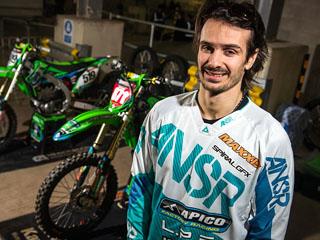 With a maximum possible score at the last but one round of the 2014 UK Arenacross series, Frenchman Fabien Izoird has taken the title by virtue of points accumulated and overall race wins.

The 26 year old Apico LPE Kawasaki rider only joined the team this year but, alongside countryman Loic Rombaut, both have blossomed in the team owned and managed by MX stalwart, Steve James.

On a roll of form right now, Fabien - who has tasted championship success on previous occasions in his native France -  dominated both Sheffield heat races going on to win the head to head two lapper gaining four valuable points ahead of the climax, the grand final. Taking the flag with ease, the KX450F pilot top scored and, after a trackside calculation, was later declared winner of the series with an unassailable lead.

For Steve James the thrill of success on the night was married to an intense feeling of pride at having achieved a Championship win after so much effort.

"Five years, that's a long time to graft away but finally we have secured our first major UK championship. Not just for us but for everyone that helped along the way and, of course Kawasaki and Maxxis who stuck with us through thick and thin. Congratulations to Fabien, I think he's shown himself as a true star of the future and also our thanks to Loic who charged hard and achieved so much alongside Fabien".

For Kawasaki, Race Coordinator, Ross Burridge commented:

"I honestly think I am just as pleased as Steve. He's been through the mill and made so many sacrifices to get this win. Steve's right, five years is a long time but the reward justifies the effort exerted by Steve, his riders and legion of team supporters. Also Kawasaki would naturally like to congratulate Fabien. He came to the UK without knowing the tracks and simply went out and made the series his own. A true racer.. and a worthy champion".

The series now moves to Wembley for the final round on March 1 and, like a true champion, Fabien will compete despite racing the very next day in the French outdoor MX Championship.