LPE Kawasaki unveils 2015 indoor and outdoor rider line-up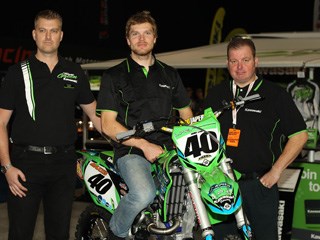 In a major coup for the Maxxis British Championship - and for LPE team, team owner, Steve James - one of Europe's premier motocross riders, Tanel Leok, has been signed with the Lincs based team for the 2015 season.
The highly regarded Estonian will be riding the Kawasaki KX450F in the MX1 class in the Maxxis British Championship, picking up where he left off in 2012. Naturally there are high expectations for the 29 year old rider.
Partnering Tanel in the MX1 class will be fan favourite – and former Team Green youth rider, Jamie Law, who switches for the coming season to the Kawasaki supported team. Also riding outdoors will be Ben James piloting the KX250F in the MXY2 class and looking to build on recent successes at this level.
As if this superb squad of outdoor riders were not exciting enough, the dynamic duo of Fabien Izoird and Loic Rombaut have confirmed they will be riding under the LPE banner in the 2015 indoor Arenacross series starting in January. They will be joined by another new signing, Jimmy Margetson, who will compete in the Rookies class.
Frenchman Fabien won the 2014 title and LPE also won the team title, so they justifiably go into next year's series as firm favourites.
Steve James commented – "Whilst the team enjoyed a very successful 2014, I have gone through some very tough times in my personal life. I've taken a step back and analysed what I want out of this sport, and to be honest it has made me more determined than ever to try and crack what I have been trying to achieve for six years, the Maxxis British Championship title. With top riders on-board both indoors and outside, I am confident that we can now enjoy the success we crave".
Ross Burridge, Kawasaki's UK Racing Coordinator concluded – "It's no secret that Steve has had to endure some tough times recently. The fact that he wants to continue with his ambitious plans and carve his team's name into the Maxxis British Championship's history books is commendable. With an impressive rider line-up and the incredible KX450F, I am sure Steve has all the ingredients for Championship success in 2015".